Denver Real Estate Blog
June 30, 2015
From the vantage point of Denver, 200 named peaks are visible with 32 of them towering above 13,000 feet! Enjoy exploring Denver this July and all our great state of Colorado has to offer!

Denver 4th of July Weekend
This 4th of July weekend, make sure to treat yourself to festivals, concerts, pro-sports events, music, parades, fun runs, fireworks and more! Learn about the many fun entertainment options Denver has to offer here.
Cherry Creek Arts Festival (July 3-5)
The Cherry Creek Arts Festival weekend event is "a world-class and award-winning celebration of the visual, culinary and performing arts, and enjoys an attendance of 350,000 visitors over the course of the three-day event". Get details here.


City Park Jazz (July 5 - August 9)
This City Park Jazz season is going strong with a lineup of FREE Sunday concerts in the park. "Spanning 10 weeks across June, July and August, the collection of local musicians in this year's lineup crosses cultures, styles and genres in a way that reflects the musical and cultural diversity of Denver". Learn more here.

Colorado Shakespeare Festival (Now - August 5)
The festival seeks to "expand the cultural richness of the region by inspiring, challenging, and cultivating the imagination of audiences and artists". Plays are performed beneath summer night skies! Get tickets here.

Denver Urban Market (July 9 and 23)
The Urban Market is a great place to shop in Denver. At the market you will find "an amazing array of local arts and crafts sold direct by the artist, clothing, jewelry, antiques, furniture, holistic services, unique treasures, delicious food, and just about anything else you could want". Get detailed information here.

Drums Along the Rockies (July 11)
Drums Along The Rockies, Colorado's premier marching music event, is "annually one of the best and most popular events of its kind in the world.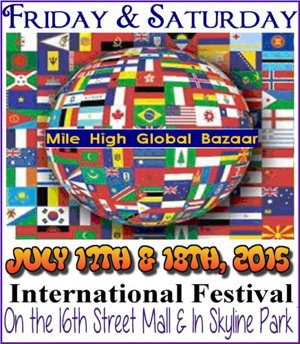 Held at the beautiful Sports Authority Field at Mile High, Drums Along The Rockies has become a Denver institution and a thrilling summer event for families across Colorado and the Rocky Mountain region". Learn more here.

Mile High Global Bazaar (July 17-18)
The Mile High Global Bazaar is an "annual celebration of international cultures, arts, crafts, merchandise, food, and music. The event will consist of exhibitors from around the globe representing a vast array of cultures and goods". Get details here.

Colorado Dragon Boat Festival (July 18-19)
The Colorado Dragon Boat Festival features three main attractions: "The thrilling ancient sport of Dragon Boat Racing, the colorful fun and flavorful Marketplace and Taste of Asia Food Court, and various Performing Arts". Learn more about this event here.

Denver Post Underground Music Showcase (July 23-26)
The 15th Annual Underground Music Showcase features "more than 400 performances on 20 stages along South Broadway for FOUR days, the UMS returns as this region's leading indie music festival". Learn more event information here.


The Color Run (August 1)
The Color Run, also known as the Happiest 5k on the Planet, is a unique paint race that celebrates healthiness, happiness and individuality. Tickets go fast, so get your today! Visit the event website here.