Denver Real Estate Blog
May 27, 2015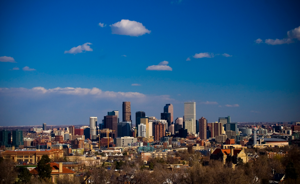 Did you know that Denver's bright blue sky really is bluer than many other cities'? Because of Denver's elevation, the air has less water vapor than it would at a lower altitude, making for a gorgeous sky! So this June, take some time to get outdoors and enjoy our beautiful community.

City Running Tour (June 3)
Join this tour "for an exciting run through Downtown Denver featuring landmarks, hidden gems, and a step over the City's official Mile-High elevation marker! Our return trip will take us straight down the middle of the 16th Street Pedestrian Mall to historic LoDo". Learn registration information here.
Capitol Hill People's Fair (June 6-7)
A celebration of Denver's diverse urban community, the Capitol Hill People's Fair is "a great weekend of entertainment with events, activities and attractions suitable for all the entire family. As one of the leading arts and crafts events in the region, visitors have the opportunity to buy all manner of wonderful creations". Get details here.


Denver Chalk Art Festival (June 6-7)
More than 200 professional, amateur and student artists will "delight and amaze Denverites with their incredible talents in what has become one of the city's most treasured events. Over the course of two days, spectators will watch as the intricate chalk paintings come to life and spread out to adorn four downtown blocks in and around Larimer Square. Visitors will enjoy live music, food and beverages while also having the rare opportunity to interact with the artists as they work". Learn event details here.

Kurious - Cabinet of Curiosities from Cirque du Soleil (Opens June 11 at the Pepsi Center)
"What if you could alter reality at will? Delve into a world of curiosity where seeing is disbelieving. The show immerses you in a mysterious and fascinating realm that disorients your senses and challenges your perceptions, leaving you to wonder: Is it real, or just a figment of my imagination?" Learn more here.

National Get Outdoors Day (June 13)
Getting involved in Get Outdoors Day will mean you are part of a nationwide effort to reconnect American youth with outdoor activities and healthy lifestyles. Come fish, bike, jump, garden, climb, paint, build, paddle, learn, dance, jump, eat, explore, and play! Select adaptive recreation activities are available for people of all backgrounds and abilities. Get detailed information here.

Denver Botanic Gardens Summer Concert Series Begins (June 16)
Situated in one of the nation's top botanic gardens, these concerts "offer an unrivaled ambiance, pairing a breathtaking setting with music from some of the world's most sought-after acts". The concert kicks off this year with the Colorado band, Hot Rize on June 16th. Learn more here.


Taste of the Broncos (June 16)
Taste of the Broncos is a casual, outdoor, tailgate style, fun-filled party at Sports Authority Field at Mile High! And, it's all for a great cause! Live entertainment, including blue grass bands performing on the Noble Energy Sports Legends Mall and the Colorado Symphony in a first-ever performance on the field. Denver Broncos players, cheerleaders, alumni and Miles appearing as "sous chefs" and signature desserts on the field under the Colorado summer sky". Learn more about this event here.
Do at the Zoo (June 18)
Come celebrate all the amazing things Do At The Zoo has helped Denver Zoo accomplish over the past 25 years. Graze on sample dishes from over 60 of the city's finest restaurants and belly up to the watering hole for unlimited drinks featuring the region's best wines and cocktails, all while enjoying our community's top live entertainment. Get details here.

Westwood Music Showcase (June 20)
The Showcase is a celebration of our state's vibrant music scene. Colorado is home to internationally renowned experimental bands, pioneering folk artists, Grammy winners and much, much more. Come enjoy, "on an outdoor main stage in the heart of Denver, the best local talent the city has to offer". Learn more event information here.

Cherry Blossom Denver Festival (June 27-28)
Japanese culture and heritage are "showcased in this annual event, now in its 42nd year. Dance, taiko drums, and martial arts are featured on the outdoor stage, while inside the Denver Buddhist Temple are food sales, exhibits, and demos. Free admission. Charge for food". Visit the event website here.